JUMP! recognised as quality above all else in the eyes of parents
JUMP! Swim Schools Named Australian Emerging Franchisor of the Year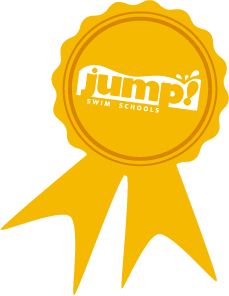 JUMP! Swim Schools is honored to be named Emerging Franchisor of the Year at the Franchise Council of Australia's Excellence in Franchising Awards.
It puts the early years learn-to-swim provider in elite company with past winners including healthy burger chain Grill'd, optometrists Laubman & Pank and lifestyle centres Plus Fitness.
JUMP! Swim Schools managing director Ian Campbell says it is a great achievement to have won the award against such a strong and inspiring field of finalists that includes Soul Origin, Salts of the Earth, Shoebox Book Keeping and KX Pilates.
Achieved through the amazing results seen by parents in each of our JUMP! Swim Schools
"This is without doubt the greatest achievement so far for our brand and it was only achieved through the amazing results seen by parents in each of our JUMP! franchises," Mr Campbell says.

"Looking at the brands we were finalists alongside, it is clear to me that being a finalist is a huge step forward in our goal of growing the brand awareness of JUMP! and building a brand that is recognised as quality above all else in the eyes of parents."
It has been an exciting year for JUMP! and the company will soon be opening swim schools in Singapore, Brazil and the Philippines.
"JUMP!'s international presence was motivated by reputation, demand and a simple and financially secure business model," Mr Campbell says.
"I am so proud of our franchisee network and thrilled for the financial success that is possible from building such important relationships with our children so that they can learn the basics of swimming with confidence and trust.
"The more we continue to build relationships that our competitors cannot, the further we develop the 'value barrier' in the eyes of the parent.

"We will continue to celebrate every small achievement in the pool with special achievement certificates and we will continue to be renowned as a very special brand in the eyes of every parent."
JUMP! Swim Schools was also a national finalist in the Franchise Innovation category.
The MYOB FCA Excellence in Franchising Awards Gala Dinner was held in Canberra at the National Convention Centre's Royal Theatre and concluded the FCA's three-day National Franchise Convention.
Riding a wave of early learn to swim demand driven by parents
It has been a rapid rise to success for JUMP! Swim Schools which opened its first franchise on the Gold Coast in mid-2014.
The company has gone on to become the nation's leader in infant swim instruction with 44 trading locations around Australia, a further 50 scheduled to open nationally within six months and three sites signed internationally in New Zealand, Brazil and Singapore.
JUMP!'s boutique swimming facilities, custom curriculum and fun, safe and calm environment that is dedicated purely to early-years learn to swim lessons is also behind JUMP!'s model of excellence and rapid business growth.
JUMP! Swim Schools teach babies as young as three months to swim through its distinct highly-personalised program and expert teaching.
"Swimming is a confidence-based skill and we saw the need for an intimate, purpose-built facility that delivers a very personalised experience for families," Mr Campbell says.

"We are the child carers of learn to swim. We have a low teacher on baby ratio and we are putting specialised education with metrics back into learn to swim and that relates to our success across the country."
JUMP!'s most innovative achievement is its purpose-built pools and facilities which average 350 students, in the 0-5 age group, per location, meaning that thousands of young children are learning a vital life skill and water safety.
JUMP! was recently named winner of the Gold Coast Business Excellence Award for Health and Wellbeing, the Australian Swim Schools Association Inclusive Swimming Award for its service for children with special needs, and Silver Stevie Winner in two categories of the world's premier business awards, the 2016 Asia-Pacific Stevie Awards.
The Franchise Council of Australia is the peak industry body for the $144 billion Australian franchise sector. The Excellence in Franchising Awards recognise the important contributions franchising makes to local communities and the opportunities the sector provides to foster business success,